Come to Startup Fair 2018 and Hear What Moves Lithuanian Fast-growing Startups Forward
It is not easy for fast-growing business startups to overcome the hardest period of the first three years – plenty of young businesses do not move further. One of the guarantees of success of current startups is the possibility of being an active community member and learning from others' mistakes and success stories, what first Lithuanian startups did not have.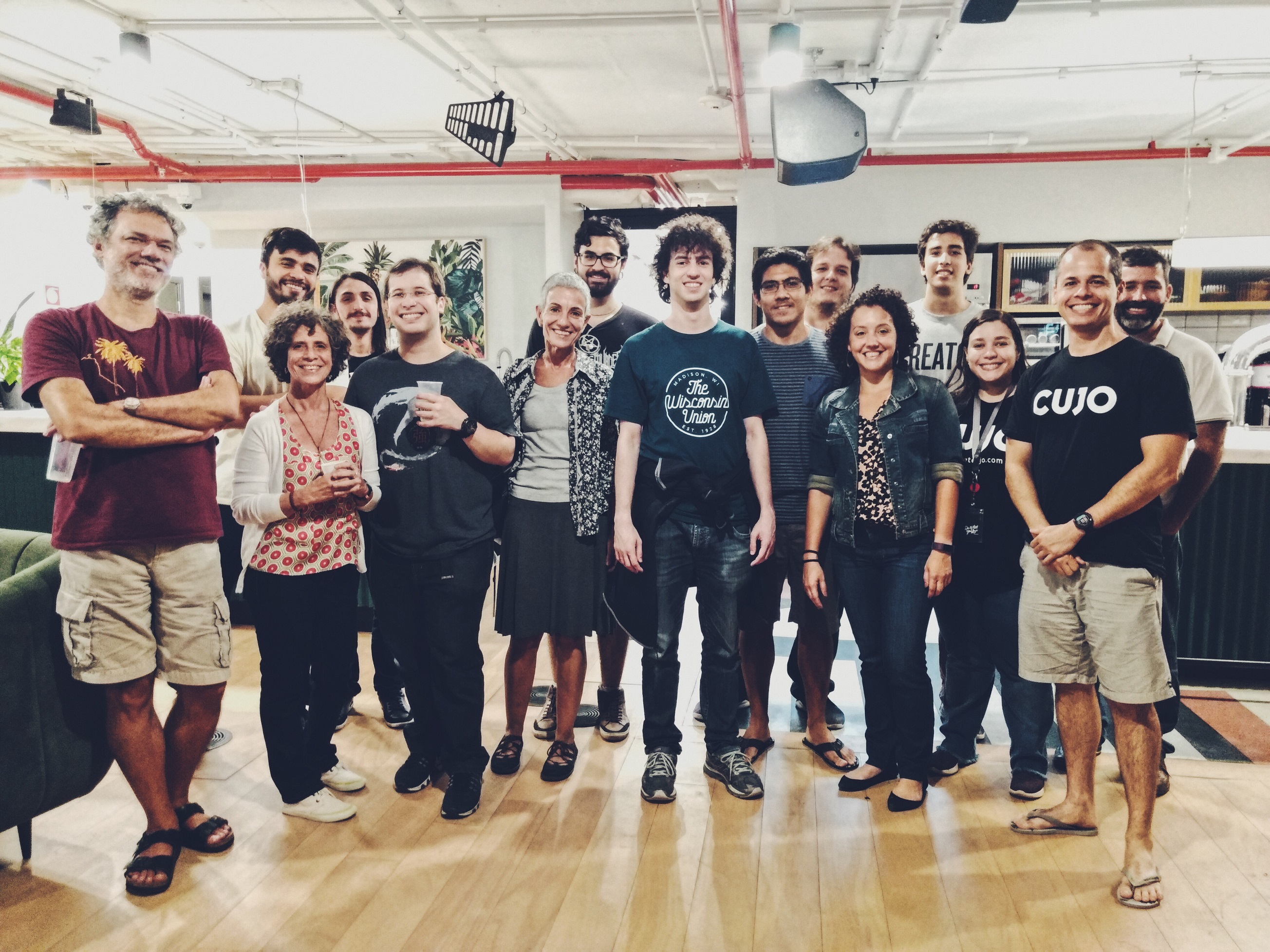 (CUJO AI with Brasilian team. Photo from CUJO AI archive)
"In order to enhance the ecosystem of Lithuanian startups, it is important to encourage the establishment of new startups, facilitate conditions for early stage startups by increasing their survival. The startup community is fascinating because of startup creators' willingness to share their knowledge and experience, and they learn from each other. At present, we have a great number of startups in Lithuania, who have successfully survived through the period of the first three years, gained momentum, and now they are serving as an example for others. Establishers of successful startups establish new startups, join other teams thus sharing their exceptionally valuable experience and knowledge," says Roberta Rudokienė, Head of Startup Lithuania.
According to her, various free-of-charge events organized recently for startups have contributed a lot to the establishment of startups and their operational success. These range from hackathons to the major startup event in Lithuania called Startup Fair, which is a unique possibility to create something innovative and new or to repeat others' success.
One of the most successful examples is a Lithuanian established company CUJO AI, which has been operating for more than 3 years. It develops solutions for telecommunication companies and home users, which are based on artificial intelligence and machine learning technologies. Kęstutis Pakalniškis, Head of the Quality Assurance Division of the Baltic company branch CUJO Baltic and one of the company founders, claims that their success depends not on the attracted investments, but on talents and the freedom the team has in its work.
Mr. Pakalniškis identifies three characteristics of a successful startup. First of all, the product must be aimed at the solution of a real problem, and people have to want to use this product. It is a very simple formula which also includes the technology and development. Fast-growing companies are usually united by such factors as demand for a product or service, market potential, fast response to demands and changes, successful system of talent attraction, ability to attract investments and to distribute resources," Mr. Pakalniškis claims.
He draws attention to the fact that fast development requires a lot of resources, therefore, in order to make bold plans, one should first analyze his capacities. "If you have 150 team members, do not plan such activities which 700 employees can hardly perform," he says.
It is necessary for startups to clearly define their priorities and adhere to such. "Remember that you have a few resources and little time, therefore, choose one niche and achieve the best results in it. You also should not be afraid of making mistakes. It is definitely that you will not be able to fulfill all your plans. Include Research and Development, beta testing into your processes and try your theories in practice," Kęstutis Pakalniškis advises.
According to Mr. Pakalniškis estimations, Lithuanian startups and teams are strong technologically, but even with a strong team in line, the possibility of creating a new and exceptional product will remain unused without trust in the team members and without providing them with the possibility of making decisions independently. "Lithuania still needs more entrepreneurship, and it will come only with a renewed and open attitude towards teams. People are ready to work hard to achieve amazing results to be proud of. Therefore, they should not be afraid to experiment and create," says Mr. Pakalniškis
Kęstutis Pakalniškis will present the fundamental motives for CUJO AI growth and development from a small business to a company offering its products across the world at a free-of-charge event for startups called Startup Fair. Growth 2018, which is the 6th event of such kind this year, will take place on 16-17 May in Vilnius Tech Park. Further information: www.startupfair.lt.